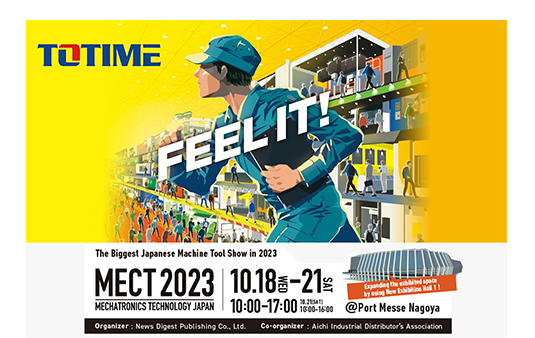 MECHATRONICS TECHNOLOGY JAPAN (MECT) is an important industrial exhibition held every two years in Nagoya, Japan,
gathering domestic and international manufactures, suppliers, and end-users of manufacturing automation products in one place.
MECT 2023 offers visitors the opportunity to see unique and highly advanced machining technologies that are rarely presented
to the public under the theme "Machining Extraordinaire." Machining demonstrations by three companies present clues to how
industry players can satisfy demanding engineering needs, allowing for a closer look at the potential and future of machining.
As a new japanese brand in the market for over 7 years , TOTIME cherishes every opportunity to show our cutting tools to the world.
This time, we are honored to exhibit our cutting tools at the MECT exhibition. Right now in Japan, TOTIME cutting tools have been
accepted with over 500 end users. At the show, there were also many new end users coming directly to us for some tools discussion
and then after that we have new end users registered to our online store here www.totimeweb.com.
TOTIME is striving to offering more clients with quality cutting tools at a more reasonable cost.
The sales strategy carried out in our local market here in Japan is that we sell everything directly to our end users through our
online store and by doing so, we are getting many more direct feedback and fast work result for our products.

TOTIME has become a very influential brand in offering cutting tools in Japan nowadays.
For more about TOTIME cutting tools, please take a look at our websites: